Have a project in mind? Here's how we can get you started
.
1
Get in touch with us
The best way to kick things off is by making an appointment. We will discuss what you are looking for, with regards to style, colours, textures and layout, as well as what matters to you with regards to functionality and practicality. If you have architectural plans at this stage, feel free to bring them along with you. If you don't yet have plans, we can arrange a time to visit your property to take the measurements ourselves. Within a few days, we will come back to you with an idea of pricing for your project. We don't charge for this service. Our appointment times are flexible to fit around you.
2
Inital Measure and Sketch
To organise your obligation free quote, please contact our office. We will organise a time and date within 24 hours of initial contact. Once we get an idea of what you're after, our team will do an initial measure & drawings of your site and invite you back to the showroom to present them to you in detail. Any desired changes can be discussed in this meeting. This process can be repeated until you are delighted with both the design and the pricing.
3
Visualise it with 3D Plans
Using our advanced, technologically and computer-generated manufacturing systems we visualise your project with a 3D sketch which will showcase your project in a stunning and photo-realistic way! This will allow you and our team to visualise your final project and make your vision into a reality!
4
Finalise & Build Your Dream Kitchen
Once the layout concepts are approved, our technical team will visit the site and undertake a check measure. This ensures that we have captured all dimensions in the room down to the millimetre. These drawings are then issued to you for approval. As soon as we have these signed-off, you'll be on your way to getting the kitchen you've always dreamed of!
Don't just take our word for it. Let's hear it from our happy clients
.


"Koshi, Savio and Emily offered a great expertise on the service and products they offer. They help design a custom kitchen to suit our needs. They carried out the project in a timely manner without cutting corners. They use Australian Labour and high quality materials giving a high quality
finished kitchen. They offered a great price to finish the project and they didn't ask a dollar more. They were completely upfront about the cost. I would recommend Famous kitchen to any of my friends and family." Nagarasa Senthamilchelvan


"Our search for a professional and cost-effective kitchen renovator concluded at Famous Kitchens, after meeting 6 other kitchen renovation companies in various parts of Sydney. FK team guided us on selecting kitchen panels, floor tiles, appliances and benchtop options and ensuring that we understood the options and make the right choices. With their factory in Seven Hills and a great team, the workmanship was amazing and the durability was a given. With the same budget for a kitchen, we ended with an additional pantry and a TV unit cum study; FK was really cost effective. After completion of the work in Feburary 2021, we recommended Famous Kitchens team to a few friends and three of them ended up going with them, since then. Thanks Koshy, Savio and team for the professional and quality workmanship. We give you a 5 out of 5 in our review. Keep up the good work." Sukesh Ned


"Collaborating with Koshy Mathew, Savio, Krina and the entire team was a pleasure. We renovated the kitchen, laundry and three bathroom vanities in our new turnkey house and changed our flooring and it was delivered to us on time because we had a deadline to work with. Quality of the flooring and the cabinetry finish in the kitchen was as promised- excellent. Not only that, Koshy gave us some good advice on how to work with the design and structural restrictions we had in the house and still achieve amazing results.

The outcome was better than expected, we recently moved into our new home and are enjoying our kitchen that's not only pleasing aesthetically but extremely user-friendly and functional. It was by a happy accident we got hold of Koshy's contact details and we're so glad we went with Famous Kitchens. One of the best decisions ever." Suhasini Vempati


"We ended up not going ahead for personal reasons but the experience of dealing with this company was a positive one. Koshy was understanding when we did not go ahead. He and his team spent alot of time with us from designing and deciding on which materials to use. Wish them all the best." Raina Nair


"Famous Kitchen had helped us set up brand new kitchen in our new family home. Koshy, Savio and Emily are extremely friendly and professional people who helped us put together a kitchen catering all our family need. Their knowledge of kitchen design and build is unparalleled and all their tradies and staff are very skilful. Famous kitchen deliver on promises and they are very committed to customer satisfaction. I would highly recommend famous kitchen to anyone looking for a modern kitchen at a reasonable price." Manoj Lenka


"Designed and installed kitchen through AAA Rapid Homes Pty Ltd Builder in my house. Excellent workmanship, professional and ontime delivery. Aprat from that after work followed up and support was excellent and proved best customer service. Very friendly and supportive satff during desing period." Vinodini Bhatt


"Having been referred by one of our friends, we had availed the services of Famous Kitchens for renovating our kitchen recently. In our first meeting itself, we realized that the company is reliable, quality conscious and professional. We were given practical suggestions for improvement in space and overall appeal. The quote was quite reasonable for a high mid range kitchen. In spite of the layout of our kitchen being not so conventional, the cabinet work and fitment are of very high standard and exceeded our expectations. All minor concerns were addressed swiftly. We appreciate the understanding and cooperation at every stage of fitment and the end product is brilliant.

We are quite happy to recommend Famous Kitchens to anyone, seeking the services of a reliable Kitchen Renovating Company." K.I. Kurian


"It was an excellent experience dealing with Famous Kitchens. We got all the joinery work for our dream home including kitchen, study, laundry, vanities and wardrobes done by them. Very Friendly, professional and prompt service. They went out of their way and accommodated all our needs and requirements. 100% happy with their service and highly recommend Famous Kitchen." Shinu Joseph


"It was wonderful experience with Famous Kitchens. We are more than satisfied & it exceed our expectations. Savio gave us Friendly advice on selection & design. It is more practical & in line with modern needs. The result is amazing. We will enjoy our kitchen for years..

Materials & fittings used are of high quality no doubt about it.

Quick turnaround & professionally installed.

We would certainly have no hesitation in recommending Famous Kitchens." Kalpeshkumar Parekh


"Awesome place for new or renovated kitchen and flooring. They have fantastic ideas and provide great products at good value. The services I have received from Savio was the best. He went above and beyond to help me out for my stone flooring. It is truly the best product. Thanks again Savio." Tan Hassan


"We did our kitchen and laundry renovation engaging Famous kitchen 6 months back and we are loving the space. The designing help using the software and the detailing was really good and they were very flexible and helpful making the changes further during the build. We also engaged them for all the trades and they were good and skilled. Schedule was a bit unpredictable but they were swift and aligned well. They did within the timeline.
Thank you famous kitchens!" Nandana Manoj


"Positive: Professionalism, Punctuality, Quality, Responsiveness, Value
We had an excellent experience with Famous Kitchens. Recently got our kitchen and pantry redone, laundry combined with bathroom and wardrobes. From start to finish the service was excellent, amazing quality and great team to work with. They helped us design the kitchen and provided great input. They made the whole process super easy, and made sure we were looked after at every step. Absolutely love the work they have done, we would highly recommend them.
Thank you Koshy and team" Chhavi Shaw


"The Team at Famous Kitchens were amazing. The products they offer are of high quality and the installation was stress free. They are definitely focused on ensuring their customers are 100% happy. I absolutely love my Kitchen and would not hesitate to recommend Famous Kitchens. Thanks again to the whole team, you were all amazing." Leanne Brown


"Savio and his team provided an outstanding service! Famous Kitchens team were professional, accommodative and worked with us on the design outcome we were hoping to achieve. They in fact exceeded our expectations as they improvised the concept and were completely invested in the project. We are extremely happy with the products and the installation service! Thank you Savio for being just a call away throughout our journey of building our dream home! Highly recommend Famous Kitchens!" Srini Rao


"I am from Canberra, and I had a great experience with the famous kitchen.they value their clients.the team spend a lot of time with us from designing and deciding which material to use.we scared at the begning because we are in canberra but honestly I can say it was my best decision. Koshi and Savio are very professional, and they personally keep in touch with their customer regarding the job update. I strongly recommend that anybody choose the famous kitchen will not regret it." Ranjit Singh


"Dealing with Famous Kitchens was an absolute pleasure. I dont have words to express the way they have taken care of us. They have gone and above and beyond to help me achieve my dream house. Overall staff is well informed and talented. Special Thanks to Savio who had been extremely helpful and understanding and I would say, an absolute gem of a person to deal with. I never met the person before but he is such a wonderful personality that one can be friends with him very easily. Very easy going, cheerful, jovial, understanding and helpful. He knows the obstacles one goes through while constructing a house and on many occasions he was helpful, understanding and accommodating too. Would highly recommend them if someone wants a quality and service." Mitul Mevawala


"The team at Famous Kitchens were incredibly professional and timely in their communication. From the initial enquiry, up until the install and beyond, Savio was fantastic. As we weren't sure exactly what the best option was for our situation, he came for an inspection to Newcastle and gave us suitable options for different budgets and was contactable to answer any questions.

The install team were efficient and professional, doing a high quality job and leaving the place as tidy as they found it.

Highly recommend." Rahul Ramachandran


"From the second we walked into the showroom, we knew the experience would be a positive one! We spoke to Savio, and he helped us start the process in designing our new kitchen. Krina helped us finalise the finishes and her advise on matching colours and material was very much showcase of her experience.

All the tradesmen were fantastic to deal with, communicated well and turned up when they were scheduled to. The whole process was so easy and seamless and I did not have to do a thing except choose my finishes. The quality in both staff and materials are second to none, and they have no hesitation in giving their advice and giving us another perspective. This is the sort of thing you want and expect when spending a significant amount of money, especially for first-time renovators. We are extremely impressed by the level of craftsmanship and expertise of the kitchen remodelling. They went above and beyond to ensure that we were completely satisfied(we made few changes on the go and they were very accomodating of those changes).

We highly recommend Famous Kitchens to anyone looking for a well designed beautiful kitchen. Thanks Famous Kitchens" Nidhish Bhandari


"Famous Kitchens take pride in their work. They seem to have the knowledge, skill and experience to bring best outcomes for their customers. Very professional, reliable, transparent and value for money.

Special mention to Koshy who managed this project from quote to completion and Savio who coordinated the day-to-day tasks. They have a good team of tradesmen. Their administrative staff are also very helpful.

We got our kitchen, laundry, bathrooms and flooring renovated.

I have no hesitation to recommend Koshy and Famous Kitchens to others." James Nagaroor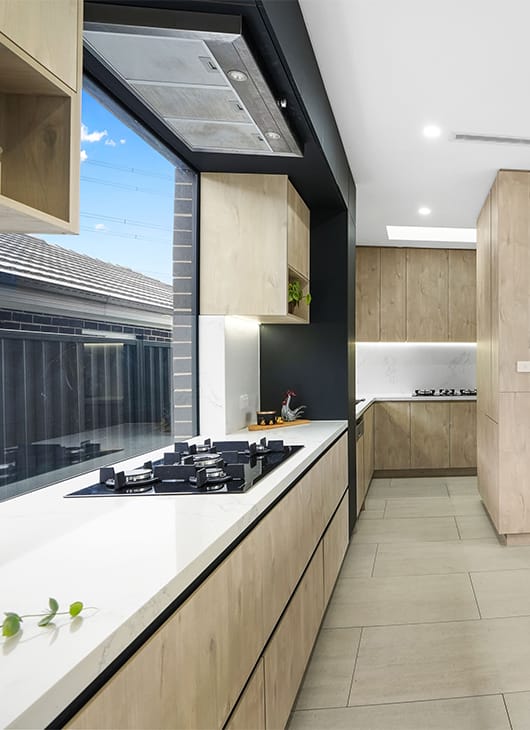 Have a project in mind? Let's talk
.
Famous Kitchens
5/89 Batt St, South Penrith NSW 2750
Famous Kitchens - Factory
14 Bearing Rd, Seven Hills NSW 2147